Samsung Galaxy Z Fold3 5G 256GB Phantom Black review and price in Kenya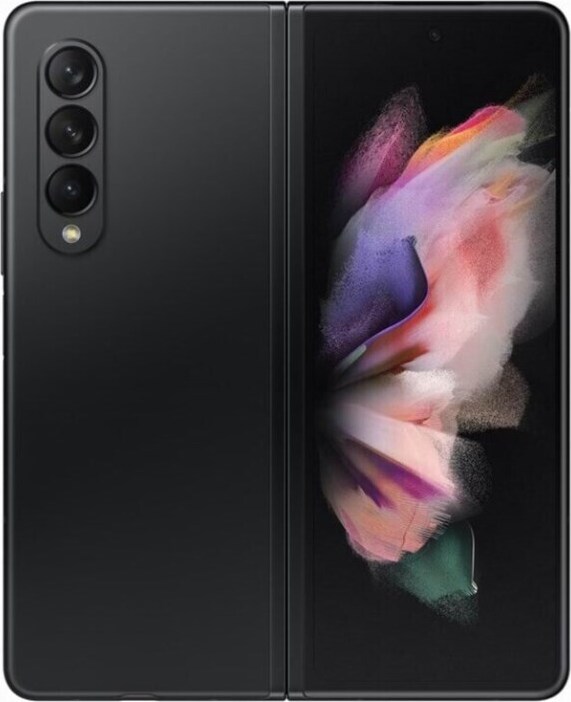 Samsung
Galaxy Z Fold 3 5G
Get ready to unfold your world
Built for the future
If you are looking for a hybrid between a mobile phone and a high-end tablet, the new Z Fold 3 is your perfect mobile phone. It has everything you are looking for in a durable, premium 5G smartphone packed with cutting-edge technology. A latest generation Snapdragon, a dynamic AMOLED 2X screen that adjusts and folds with ease. You want to know more? you will fall in love
The most innovative screen yet
When folded, the Samsung Galaxy Z Fold 3 5G presents a 7.6-inch Dynamic AMOLED 2X foldable screen with a resolution of 1768 x 2208 pixels and an aspect ratio of 25:9. It is also protected with Corning Gorilla Glass Victus. It becomes a 6.2-inch Dynamic AMOLED 2X screen with a resolution of 832 x 2268 pixels. It also features HRD10+ technology, designed to offer higher image quality in your favorite movies or series. With a brightness of 1200 nits and a refresh rate of 120 Hz, you will have that feeling of fluidity that you are so looking for in a phone.
Let's get technical
The new Samsung phone is designed to give you a better experience in every way. And for that, it has the latest generation hardware to not let you down at any time, whether you are playing or watching your favorite series. The thinking brain of this mobile is the Qualcomm Snapdragon 888 5G, which is equipped with 8 cores to offer the best possible performance. Prepared for a 5G connection, you will be amazed at the speed that can be achieved. If that's not enough for you, the large storage space and 12GB of RAM means you've opened the app without even unlocking the phone. A real mobile at the top.
Smile!
With this phone, you'll get tired of uploading photos to your favorite social networks to show how well you're going to develop. From an ordinary selfie to a sunset photo, the new Z Fold 3 5G lets you capture every detail. It has a triple 12 MP camera, HDR and 4K video recording capacity. And if that's not enough for you, the 10MP front camera brings out the colors so you can step out in the best possible way. You just have to smile!
All our Samsung products are European. Due to Samsung geographic restrictions, the Samsung Pay feature may not be available. Instead, you can use other apps to pay with your device via NFC, e.g. e.g. Google Play. For safety reasons, please check this condition before purchasing.
Disclaimer: Does not include charger or headphones.
screen size:

19.3cm (7.6″)

Display resolution:

2208×1768 pixels

Screen shape:

Flat

Display type:

OLED

Display technology marketing name:

Dynamic AMOLED 2X

Display glass type:

GorillaGlass

Gorilla Glass finish:

Gorilla Glass Victus

Number of colors of the display:

16 million colors

Maximum refresh rate:

120Hz

High Dynamic Range Video (HDR) Support:

Yes

High dynamic range (HDR) technology:

High Dynamic Range 10+ (HDR10 Plus)

Type of touch screen:

capacitive

pixel density:

374 ppi

Rounded display corners:

Yes

Second screen:

Yes

Second display diagonal:

15.8cm (6.2″)

Second display resolution:

2268×832 pixels

Type second display:

Dynamic AMOLED

Second display pixel density:

387 ppi

Processor family:

Qualcomm Snapdragon

Processor:

888

Number of CPU cores:

8th

Processor Boost Frequency:

2.84GHz

RAM capacity:

12GB

Internal storage capacity:

256GB

RAM type:

LPDDR5

Rear camera type:

triple camera

Rear camera resolution (numerical):

12MP

Front camera type:

single camera

Front camera resolution (numerical):

10MP

Rear camera flash:

Yes

Second rear camera resolution (numerical):

12MP

Macro camera resolution (numeric):

12MP

Rear camera resolution:

3000×4000 pixels

rear camera aperture number:

1.8

Second rear camera f-number:

2.2

Third Rear Camera Aperture Number:

2.4

Pixel size second rear view camera:

1.8 µm

Pixel size third rear view camera:

1 µm

Optical zoom:

2x

Digital zoom:

10x

Front camera aperture number:

2.2

Pixel size front camera:

1.22µm

Camera resolution (numeric):

10MP

F-Number Coverage Camera:

2.2

Pixel size coverage camera:

1.22µm

Field of View Angle (FOV) Coverage Camera:

80°

Flash Type:

LEDs

Video resolution:

2160×3840 pixels

Maximum frame rate:

60 fps

Resolution at capture speed:

1920×1080@30fps, 1920×1080@60fps, 3840×2160@30fps, 3840×2160@60fps

Video Recording Modes:

720p, 1080p, 2160p

Auto Focus:

Yes

Time Lapse Mode:

Yes

night mode:

Yes

SIM card slots:

Dual SIM

Cellular network generation:

5G

SIM card type:

NanoSIM

4G standard:

LTE

WIRELESS INTERNET ACCESS:

Yes

Bluetooth:

Yes

WLAN standards:

802.11a, 802.11b, 802.11g, Wi-Fi 4 (802.11n), Wi-Fi 5 (802.11ac), Wi-Fi 6 (802.11ax)

Bluetooth version:

5.0

Bluetooth Low Energy (BLE):

Yes

MIMO:

Yes

Near Field Communication (NFC):

Yes

Subscription type:

no subscription

USB connection:

Yes

USB plug:

USB Type-C

Headphone connection:

USB Type-C

SMS (short message service):

Yes

MMS (Multimedia Messaging Service):

Yes
Yes

form factor:

clam shell

Product color:

Black

International degree of protection (IP code):

IPX8

Fast charge:

Yes

Wireless charging:

Yes

Fingerprint scanner:

Yes

Face recognition:

Yes

Handsfree:

Yes

language choice:

Yes

voice command:

Yes

USB On-The-Go Support:

Yes

Vibration alert:

Yes

Site Position:

Yes

GPS:

Yes

GLONASS:

Yes

BeiDou:

Yes

Galileo:

Yes

Speaker:

Stereo

Supported video modes:

720p, 1080p, 1440p, 2160p

Audio system:

Dolby Atmos

Supported audio formats:

3GA, AAC, AMR, APE, AWB, DFF, DSF, FLAC, IMY, M4A, Midi, MP3, MXMF, OGA, OGG, OTA, RTTTL, RTX, WAV, XMF

Supported video formats:

3GP, AVI, FLV, M4V, MKV, MP4, WEBM

Platform:

Android

Installed operating system:

Android 11

App distribution platform:

google play

Office support:

Yes

Supported Google Applications:

Gmail, Google Calendar, Google Chrome, Google Play, YouTube

Virtual Assistant:

Samsung Bixby

Accumulator/battery capacity:

4400mAh

Wireless power distribution:

Yes

Proximity Sensor:

Yes

Accelerometer:

Yes

Ambient Light Sensor:

Yes

Gyroscope:

Yes

Orientation sensor:

Yes

Barometer:

Yes

Geomagnetic Sensor:

Yes

Hall sensor:

Yes

Weight:

271g

Width:

128.1mm

Depth:

6.4mm

Height:

158.2mm

Collapsed width:

6.71 cm

Folded Depth:

1.6 cm

Folded Height:

6.25″

Head SAR (EU):

1.036W/kg

Body SAR (EU):

1.443W/kg

Extremities SAR (EU):

3.14W/kg

Quick start overview:

Yes

Supplied cables:

USB Type-C

Sim card ejector:

Yes

Touchscreen:

Yes

Index of repairability:

7.8
Samsung Galaxy Z Fold3 5G SM-F926B. Screen diagonal: 19.3 cm (7.6 inches), Screen resolution: 2208 x 1768 pixels, Display type: Dynamic AMOLED 2X. Processor family: Qualcomm Snapdragon, Processor: 888. RAM capacity: 12 GB, RAM type: LPDDR5, Internal storage capacity: 256 GB. Rear camera resolution (numeric): 12 MP, Rear camera type: Triple camera. SIM Card Slots: Dual SIM. Installed operating system: Android 11. Battery capacity: 4400 mAh. Color of product: Black. Weight: 271g
Samsung Galaxy Z Fold3 5G – 5G smartphone – Dual SIM – RAM 12 GB / Internal memory 256 GB – OLED display – 7.6″ – 7.6″ – 2208 x 1768 pixels 2208 x 1768 pixels (120 Hz) – Triple camera 12 MP , 12 MP, 12 MP – 2x front cameras 10 MP, 4 MP – phantom black