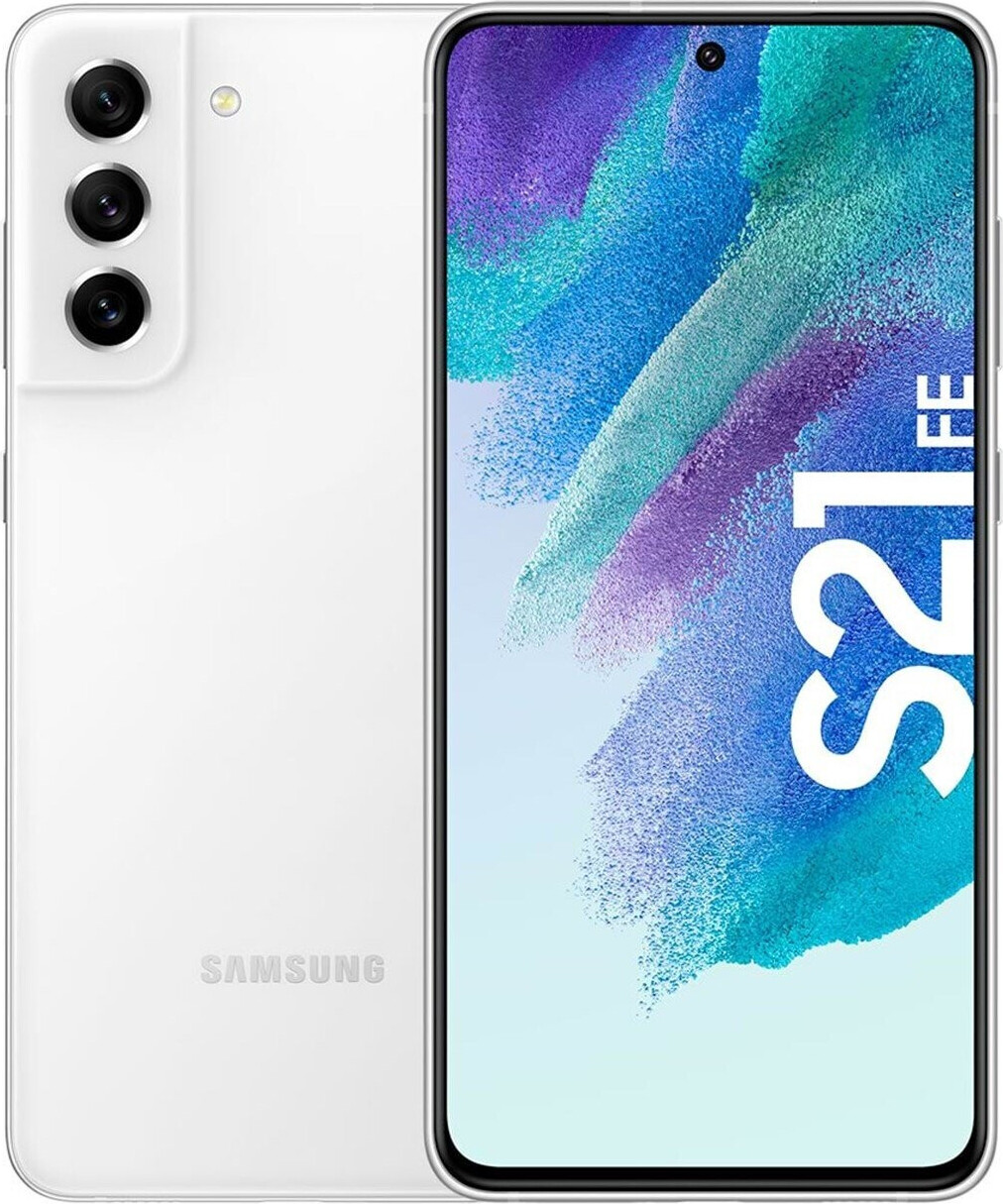 Epic packed in a handy format
The Galaxy S21 FE 5G packs everything you love into 16.29 cm / 6.4 inches – a size that is perfect for staying in touch with friends, discovering new passions, being there live and watching your favorite shows .
You can't take your eyes off
Just smooth
Our display with smooth scrolling up to 120 Hz is like a holiday for your thumbs. It adjusts the refresh rate to smooth scrolling and ensures fast touch response times in Game Mode.3 Perfect for defeating the boss.
Big screen in your hand
An immersive display where you can literally forget everything around you. Not only have the edges been slimmed down to allow for a wide view, the Dynamic AMOLED display with up to 120 Hz delivers vivid colors and brightness even in sunlight.
Hardly any scratches – this display is the hardness
Eliminate "Oops" from your vocabulary with Gorilla® Glass Victus™, the toughest glass on a Samsung Galaxy smartphone.
Makes almost every picture unforgettable
The Galaxy S21 FE 5G's camera effortlessly delivers impressive content, capturing realistic photos and videos with high detail.
That looks almost like studio quality
Portrait mode puts your subject front and center – just add an effect to set the mood and then upload it straight to your social media.
This is how your selfie becomes a work of art
No filters, no fear. You can take great selfies with the 32 MP front camera. Your facial features are highlighted and refined to make you look good anywhere on the web.
Be both an actor and a director
Set accents and vlog like a pro. Switch cameras while filming or capture the action and your OMG reaction in one shot for instant uploadable footage.
Ready to record tonight and every night
Make low-light conditions the highlight of your feed with a 32MP front camera that captures your chicest selfie, even at night. AI multi-frame processing brings out lots of color and detail, so your snaps are low-noise and focused on you.
Get the distance up close
With the Galaxy S21 FE 5G's 30x space zoom, you can take your picture from the sidelines as well as from the back rows of the stands. And you have Zoom Lock by your side to reduce shake as you zoom in further.
One of the fastest chips is used in the Galaxy S21 FE 5G
A processor that works hard so you can play hard. Combined with efficient technology, this chip is so fast, so powerful and so smart that you can experience graphics-intensive games and multitasking performance at a high level.
The nightmare of worrying about a dead battery doesn't have to be an issue
The 4,500 mAh battery works with the energy-efficient screen and processor to get you through the day even on 5G networks – so you can watch many episodes and try out many of the current trends.
Unpack ultimate fan power
The only things you need to take your passion to the next level—the device, USB Type-C data cable, slot tool, and quick start guide—are included in the box.
Screen
Screen diagonal: 16.3 cm (6.4 inches)
Screen resolution: 2400 x 1080 pixels
Screen Shape: Flat
Display type: Dynamic AMOLED 2X
Display glass type: Gorilla Glass
Gorilla Glass finish: Gorilla Glass Victus
Native aspect ratio: 20:9
Brightness: 1200 cd/m²
Maximum refresh rate: 120Hz
Pixel Density: 401ppi
Anti-Fingerprint Surface: Yes
processor
Processor clock frequency: 2.8 GHz
Processor family: Qualcomm Snapdragon
Processor: 888
Number of processor cores: 8
storage medium
RAM Capacity: 6GB
Internal storage capacity: 128GB
Compatible memory cards: Not supported
camera
Rear Camera Type: Triple Camera
Rear camera resolution (numeric): 12 MP
Front Camera Type: Single Camera
Front camera resolution (numeric): 32 MP
Rear Camera Flash: Yes
Rear camera sensor size: 1/1.76 inch
Second rear camera sensor size: 1/4.5 inch
Third rear camera sensor size: 1/3.0 inch
Second rear camera resolution (numeric): 8 MP
Third rear camera resolution (numeric): 12 MP
Rear camera F number: 2.2
Second rear camera f/1.8
Third rear camera Aperture number: 2.4
Rear camera pixel size: 1.12 µm
Second rear view camera pixel size: 1.8 µm
Third rear camera pixel size: 1 µm
Optical zoom: 3x
Digital zoom: 30x
Front camera sensor size: 1/2.74 inch
Front camera F number: 2.2
Front camera pixel size: 0.8 µm
Front Camera Flash: No
Auto Focus: Yes
Image Stabilization: Yes
Image Stabilization Type: Optical Image Stabilization (OIS)
network
SIM Card Slots: Dual SIM
Cellular network generation: 5G
SIM card type: NanoSIM
4G standard: LTE
WiFi: Yes
bluetooth: yes
WLAN standards: 802.11a, 802.11b, 802.11g, Wi-Fi 4 (802.11n), Wi-Fi 5 (802.11ac), Wi-Fi 6E (802.11ax)
Bluetooth Version: 5.0
MIMO: Yes
Near Field Communication (NFC): Yes
subscription
Subscription type: No subscription
connections and interfaces
USB connection: Yes
USB connector: USB Type-C
ANT+ Ready: Yes
design
Form Factor: Bar
Color of product: White
International protection class (IP code): IP68
Housing material: metal, plastic
Services
Fast Charge: Yes
Wireless charging: Yes
Fingerprint scanner: Yes
Face Recognition: Yes
Refurbished: No
navigation
Location Position: Yes
GPS: Yes
GLONASS: Yes
BeiDou: Yes
Galileo: Yes
multimedia
FM Radio: Yes
Loudspeaker: monaural
Audio system: DTS:X/Dolby Atmos
software
Platform: Android
Installed operating system: Android 11
Huawei Mobile Services (HMS): No
battery
Rechargeable battery/battery capacity: 4500 mAh
Talk time (3G): 32 h
Rechargeable battery/battery technology: Lithium-Ion (Li-Ion)
Continuous video playback: 19 h
weight and dimensions
Weight: 177g
Width: 745mm
Depth: 1557mm
Height: 79mm
scope of delivery
AC Power Adapter: Yes
Samsung Galaxy S21 FE 5G SM-G990B. Screen diagonal 16.3 cm (6.4 inches), screen resolution 2400 x 1080 pixels, display type Dynamic AMOLED 2X. Processor frequency 2.8 GHz, processor family Qualcomm Snapdragon, processor 888. RAM capacity 6 GB, internal storage capacity 128 GB. Rear camera resolution (numeric) 12 MP, rear camera type triple camera. SIM card slots Dual SIM. Installed operating system Android 11. Battery capacity 4500 mAh. Product color White. Weight 177g
Screen
screen resolution
2400×1080 pixels
display type
Dynamic AMOLED 2X
Display glass type
GorillaGlass
Gorilla Glass finish
Gorilla Glass Victus
Maximum refresh rate
120Hz
Anti-fingerprint surface
Yes
software
Installed operating system
Android 11
Huawei Mobile Services (HMS)
No
network
Cellular Network Generation
5G
WLAN standards
802.11a, 802.11b, 802.11g, Wi-Fi 4 (802.11n), Wi-Fi 5 (802.11ac), Wi-Fi 6E (802.11ax)
Near Field Communication (NFC)
Yes
camera
rear camera type
triple camera
Rear camera sensor size
1/1.76 inch
Sensor size of the second rear camera
1/4.5 inch
Sensor size of the third rear camera
1/3.0 in
Rear camera resolution (numeric)
12MP
Second rear camera resolution (numeric)
8MP
Third rear camera resolution (numeric)
12MP
front camera type
single camera
Front camera sensor size
1/2.74 inch
Front camera resolution (numeric)
32MP
Image stabilizer type
Optical Image Stabilization (OIS)
design
International degree of protection (IP code)
IP68
housing material
metal, plastic
storage medium
Internal storage capacity
128GB
Compatible memory cards
Unsupported
battery
Rechargeable battery technology
Lithium Ion (Li Ion)
Continuous video playback
7 p.m
weight and dimensions
navigation
processor
processor clock speed
2.8GHz
processor family
Qualcomm Snapdragon
connections and interfaces
Services
subscription
subscription type
no subscription
multimedia
audio system
DTSX/Dolby Atmos
sensors
scope of delivery
screen size:

16.3cm (6.4″)

Display resolution:

2400×1080 pixels

Screen shape:

Flat

Display type:

OLED

Display technology marketing name:

Dynamic AMOLED 2X

Display glass type:

GorillaGlass

Gorilla Glass finish:

Gorilla Glass Victus

Native aspect ratio:

20:9

Maximum refresh rate:

120Hz

Brightness:

1200 cd/m²

pixel density:

401 ppi

Anti-Fingerprint Surface:

Yes

Processor Clock Speed:

2.8GHz

Processor family:

Qualcomm Snapdragon

Processor:

888

Number of CPU cores:

8th

RAM capacity:

6GB

Internal storage capacity:

128GB

Compatible memory cards:

Unsupported

Rear camera type:

triple camera

Rear camera resolution (numerical):

12MP

Front camera type:

single camera

Front camera resolution (numerical):

32MP

Rear camera flash:

Yes

Rear camera sensor size:

1/1.76″

Sensor size of the second rear camera:

1/4.5″

Sensor size of the third rear camera:

1/3.0″

Second rear camera resolution (numerical):

8MP

Third rear camera resolution (numeric):

12MP

rear camera aperture number:

2.2

Second rear camera f-number:

1.8

Third Rear Camera Aperture Number:

2.4

Pixel size rear view camera:

1.12µm

Pixel size second rear view camera:

1.8 µm

Pixel size third rear view camera:

1 µm

Optical zoom:

3x

Digital zoom:

30x

Sensor size front camera:

1/2.74″

Front camera aperture number:

2.2

Pixel size front camera:

0.8 µm

Auto Focus:

Yes

Image Stabilizer:

Yes

Image stabilizer type:

Optical Image Stabilization (OIS)

SIM card slots:

Dual SIM

Cellular network generation:

5G

SIM card type:

NanoSIM

4G standard:

LTE

WIRELESS INTERNET ACCESS:

Yes

Bluetooth:

Yes

WLAN standards:

802.11a, 802.11b, 802.11g, Wi-Fi 4 (802.11n), Wi-Fi 5 (802.11ac), Wi-Fi 6E (802.11ax)

Bluetooth version:

5.0

MIMO:

Yes

Near Field Communication (NFC):

Yes

Subscription type:

no subscription

USB connection:

Yes

USB plug:

USB Type-C

ANT+ enabled:

Yes

form factor:

bar

Product color:

White

International degree of protection (IP code):

IP68

Case material:

Metal, plastic

Fast charge:

Yes

Wireless charging:

Yes

Fingerprint scanner:

Yes

Face recognition:

Yes

Site Position:

Yes

GPS:

Yes

GLONASS:

Yes

BeiDou:

Yes

Galileo:

Yes

FM radio:

Yes

Speaker:

Mono

Audio system:

DTS:X/Dolby Atmos

Platform:

Android

Installed operating system:

Android 11

Accumulator/battery capacity:

4500mAh

Talk time (3G):

32 h

Rechargeable battery/battery technology:

Lithium Ion (Li Ion)

Continuous Video Playback:

7 p.m

Proximity Sensor:

Yes

Accelerometer:

Yes

Ambient Light Sensor:

Yes

Gyroscope:

Yes

Barometer:

Yes

Geomagnetic Sensor:

Yes

Hall sensor:

Yes

Weight:

177g

Width:

74.5mm

Depth:

7.9mm

Height:

155.7mm

Head SAR (EU):

0.952W/kg

Body SAR (EU):

1.48W/kg

Index of repairability:

8.2
SAMSUNG Galaxy S21 FE 5G
smartphone
Galaxy S21 FE 5G 128GB White
16.29 cm (6.4″) (full rectangle) Full HD+ Dynamic AMOLED display
128 GB storage capacity, freely available memory approx. 99 GB
Android 12, octa-core processor (1x 2.84 GHz + 3x 2.4 GHz + 4x 1.8 GHz)
Triple main camera (12 MP, 12 MP, 8 MP), 32 MP front camera
6GB of RAM
WiFi 6, Bluetooth 5.0, NFC, GPS, GLONASS, 5G
4,500 mAh battery capacity, fingerprint sensor, face recognition
Dual SIM (Nano SIM)
Samsung Galaxy S21 FE 5G – 5G smartphone – Dual SIM – RAM 6 GB / Internal memory 128 GB – OLED display – 6.4″ – 2340 x 1080 pixels (120 Hz) – Triple camera 12 MP, 12 MP, 8 MP – front camera 32 MP – white