Samsung Galaxy A32 5G 64GB A326 Awesome Black Dual SIM EU review and price in Kenya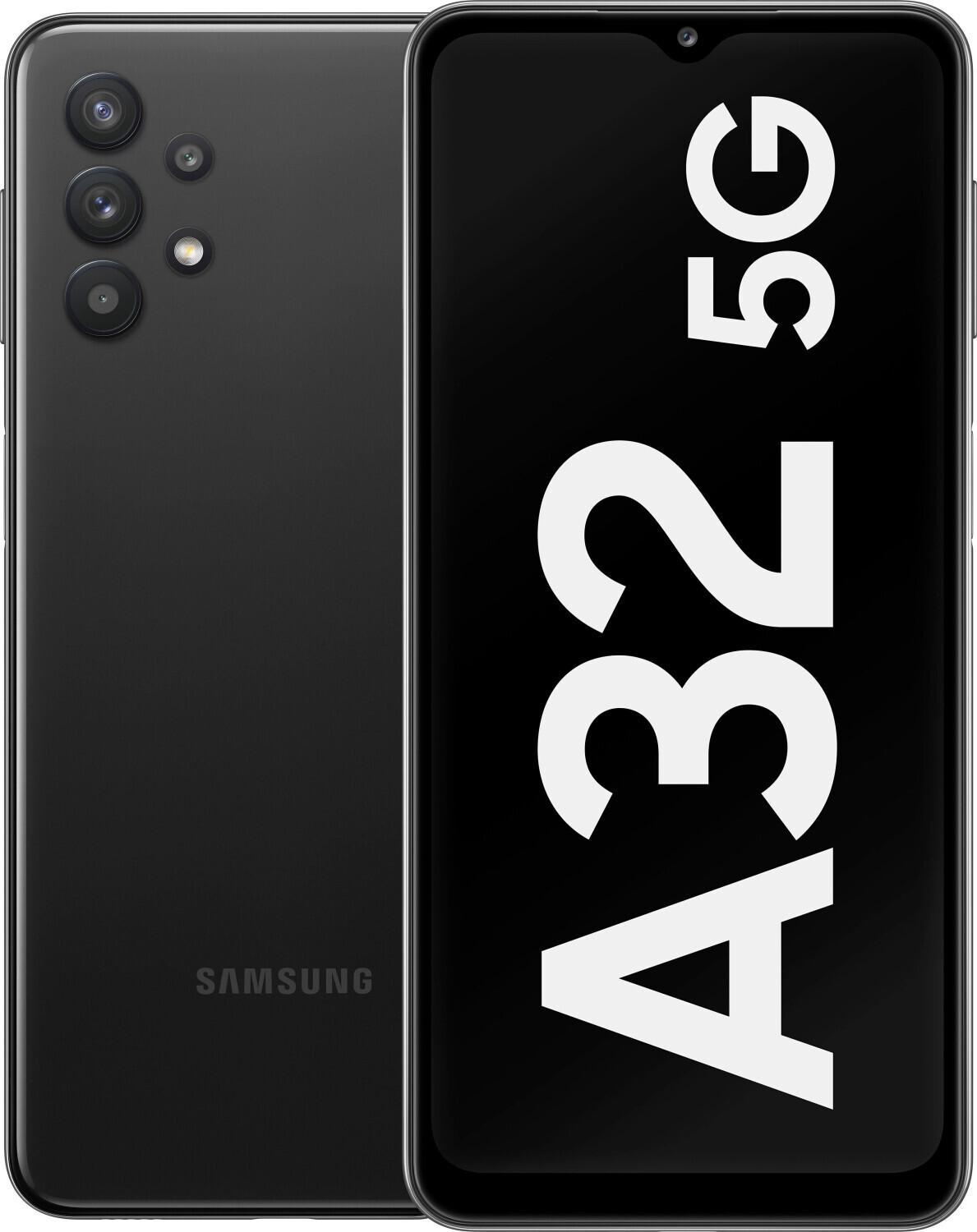 Experience high performance with the Galaxy A32 5G
With the new 5G data standard, you can experience blazing speed – whether it's sharing content, smooth gaming and streaming or fast download times. Get high performance with the Galaxy A32 5G.
Have fun with a large display
The 16.55 cm / 6.5-inch Infinity-V display of the Galaxy A32 5G makes content big. Enjoy your content with clear sharpness and rich contrasts thanks to HD+ technology
Minimalist design full of style
The Galaxy A32 5G not only looks good, it also feels good. The seamless design with a discreet camera housing sets stylish accents in 4 soft shades: Awesome Black, Awesome White, Awesome Blue and Awesome Violet
The quad camera for many photo opportunities
The right lens for almost every situation. Take great photos day and night with the 48 MP main camera and capture great panoramas with the ultra wide-angle camera. Bring your subject to the fore with the depth camera or discover small details with the macro camera.
Ultra wide-angle camera for big moments
With the 8MP ultra wide-angle lens and 123° field of view, you can easily capture panoramas and capture the world almost as we see it with our eyes.
For detailed close-ups
With the 5 MP macro camera, you can capture small details in close-up photos that you might otherwise have missed. And with the 2MP bokeh lens, you can blur the background to make your subject stand out.
A camera with depth
The 2 MP depth camera makes it possible to set the depth of field before and after the shot. This allows you to adjust the background blur as you wish, so that your subject is presented as best as possible.
The front camera for impressive selfies
Show off your best self with the Galaxy A32 5G's 13MP front camera, and use Live Focus to blur the background so you're in the foreground.
Lots of power
A smartphone that can last a really long time. The Galaxy A32 5G's massive 5,000 mAh battery has plenty of power so you can do what you love. And with the 15 watt quick charge function, you'll quickly have the power to get going again.
With the Game Booster to victory
Take advantage of Game Booster's dedicated interface and block out distractions while enjoying smooth graphics and smooth action with Frame Booster. Game Booster can learn from your usage behavior and adjust your battery consumption, temperature and RAM usage of your smartphone.
High-level speed and memory
The powerful octa-core processor and 4 GB RAM offer strong performance for graphics-intensive games and live streams. With an internal memory of 64 GB or 128 GB and the option to expand the memory by up to 1 TB, the Galaxy A32 5G offers you plenty of space to store your pictures, videos, music or files.
Strong protection for your private data
Built into both the software and hardware of your Galaxy A32 5G,
Samsung
Knox offers strong protection from the moment you turn it on. In this way, the multi-layer security platform can protect your private data from prying eyes and malware.
Intuitive operation with One UI
With One UI you can concentrate on the essentials and use your smartphone just as conveniently as it is intuitive. Customize the user interface of your Galaxy A32 5G according to your needs and find what you are looking for quickly.
A smooth Android™ experience
Use the Google Apps for Android on your Galaxy A32 5G.
Service that is there for you
Check and adjust the performance with the diagnosis function in the Members App.
The Samsung Galaxy A32 5G has a 6.5 inch TFT screen. A resolution of 720 x 1600 pixels offers excellent conditions for the reproduction of detailed images and photos. In addition, the smartphone is equipped with a RAM with a capacity of 4 gigabytes. Its battery capacity is 5000 mAh. The main camera of the Samsung Galaxy A32 5G can also take pictures with 48.0 million pixels. A front camera with a resolution of 13.0 million pixels provides the basis for participating in video chats. The device is also equipped with an internal memory with a size of 64 gigabytes and is therefore ideal for storing images, programs and videos. Additional storage space can be created later by inserting a microSD card. The mobile weighs 205 g. It also comes with Bluetooth.
screen size:

16.5cm (6.5 inch)

Display resolution:

720×1600 pixels

Screen shape:

Flat

Display type:

TFT

Number of colors of the display:

16 million colors

Type of touch screen:

capacitive

Rounded display corners:

Yes

Processor Clock Speed:

2GHz

Number of CPU cores:

8th

Co-Processor:

Yes

Co-processor clock speed:

2GHz

RAM capacity:

4GB

Internal storage capacity:

64GB

Compatible memory cards:

MicroSD (TransFlash)

User Storage:

47.2GB

Max memory card size:

1000GB

Rear camera type:

quad camera

Rear camera resolution (numerical):

48MP

Front camera type:

single camera

Front camera resolution (numerical):

13MP

Rear camera flash:

Yes

Second rear camera resolution (numerical):

8MP

Macro camera resolution (numeric):

5MP

Depth camera resolution (numeric):

2MP

rear camera aperture number:

1.8

Second rear camera f-number:

2.2

Third Rear Camera Aperture Number:

2.4

Fourth rear camera aperture number:

2.4

Field of view angle (FOV) second rear camera:

123°

Digital zoom:

10x

Front camera aperture number:

2.2

Flash Type:

LEDs

Video resolution:

3840×2160 pixels

Maximum frame rate:

120 fps

Resolution at capture speed:

3840×2160@30fps

Video Recording Modes:

720p, 1080p, 2160p

Auto Focus:

Yes

geolocation:

Yes

SIM card slots:

Dual SIM

Cellular network generation:

5G

SIM card type:

NanoSIM

3G standards:

UMTS, WCDMA

4G standard:

LTE TDD & LTE FDD

WIRELESS INTERNET ACCESS:

Yes

Bluetooth:

Yes

WLAN standards:

802.11a, 802.11b, 802.11g, Wi-Fi 4 (802.11n), Wi-Fi 5 (802.11ac)

Bluetooth version:

5.0

supported 3G bandwidths:

850,900,1900,2100MHz

supported 4G bandwidths:

700,800,850,900,1800,1900,2100,2300,2500,2600MHz

5G bands supported:

2600.3500MHz

Tethering (modem mode):

Yes

Wi-Fi Direct:

Yes

Near Field Communication (NFC):

Yes

Subscription type:

no subscription

USB connection:

Yes

USB plug:

USB Type-C

USB version:

2.0

Headphone connection:

3.5mm

SMS (short message service):

Yes

MMS (Multimedia Messaging Service):

Yes
Yes

form factor:

bar

Product color:

Black

Color name:

Awesome Black

Fast charge:

Yes

Fingerprint scanner:

Yes

Handsfree:

Yes

Vibration alert:

Yes

Site Position:

Yes

GPS:

Yes

GLONASS:

Yes

BeiDou:

Yes

Galileo:

Yes

WLAN based positioning:

Yes

Platform:

Android

App distribution platform:

google play

Supported Google Applications:

Gmail, Google Chrome, Google Maps, Google Photos, Google Play, YouTube

Virtual Assistant:

Samsung Bixby

Accumulator/battery capacity:

5000mAh

Talk time (4G):

36 h

Browsing time (WLAN):

9 p.m

Browsing time (4G):

7 p.m

Continuous audio playback time:

106 h

Continuous Video Playback:

8 p.m

Proximity Sensor:

Yes

Accelerometer:

Yes

Ambient Light Sensor:

Yes

Gyroscope:

Yes

Geomagnetic Sensor:

Yes

Hall sensor:

Yes

Weight:

205g

Width:

76.1mm

Depth:

9.1mm

Height:

164.2mm

Head SAR (EU):

0.333W/kg

Body SAR (EU):

1.081W/kg

Extremities SAR (EU):

2.7W/kg

AC power adapter:

Yes

Quick start overview:

Yes

Supplied cables:

USB

Sim card ejector:

Yes

Touchscreen:

Yes

Index of repairability:

8.1